INFORME ROBINSON (CANAL PLUS)
The MiradasDoc International Documentary Film Festival includes the Fifth Showing of the Documentary on Television, which is now established with a history guaranteed by the quality of the reports and documentaries which have been shown at previous festivals: the hazardous filming of Al filo de lo imposible from RTVE, the rigour and the quality of the BBC documentaries, the new DOK format from Canal Plus, the particular working style of the reporters from Televisión Autonómica de Cataluña TV3 and the dangerous reports by Jon Sistiaga for Cuatro.
This showing attempts to make more accessible the television productions that show the greatest similarity to documentary cinema. They are of great value, risky or with a different approach to matters of interest for the large audience on the small screen.
This year, we have some of the best reports from the programme, Informe Robinson (Canal Plus) complemented by, in our programming, at the sixth edition of MiradasDoc, a look at football around the world, creating a varied and global view of the world of sport.
Directed and presented by Michael Robinson, this programme reveals the lesser seen side of the world of sport: surprising stories, in-depth interviews and the best images will be the ingredients. The programme includes legends from the past, the biggest names in modern sport, young talent who will be the stars of tomorrow but also features some anonymous athletes. All of this is under the watchful eye of Michael Robinson, who provides the talent, fresh perspective and the necessary experience to bring us this unique project in the history of Spanish television.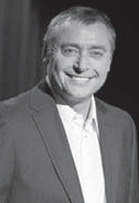 Michael John Robinson (Leicester, England, 12th July 1958) is a British former footballer who is now the sports commentator on a number of Canal+ programmes, in Spain, the country where he has lived since the late 80s, and where he enjoys great popularity. He currently works on the Informe Robinson programme and as a commentator on the SER radio channel.