NEED FUNDING FOR YOUR PROJECT? PRESENT AND PITCH YOUR IDEA TO THE BEST POSSIBLE AUDIENCE!
Our Pitching program is structured in two phases:
MAIN PITCH SESSION (PUBLIC PRESENTATION OF THE PROJECT)
Each selected project will be briefly presented (10 minutes) by its director and/or producer before a panel composed of commissioning editors (who are responsible for TV funding) and distributors attending the MiradasDoc Market. A brief DVD demo-reel of the project may be shown to the audience as part of the presentation (maximum duration: 3 or 4 minutes). The pitch session will be presided over by an expert moderator and will also include the active participation of decision-makers who will share information about the sort of programs that interest them, their channels' editorial slants and their companies with filmmakers and producers.
The list of Commissioning Editors will be published very soon in this website.
ONE-TO-ONE INDIVIDUAL PITCH MEETINGS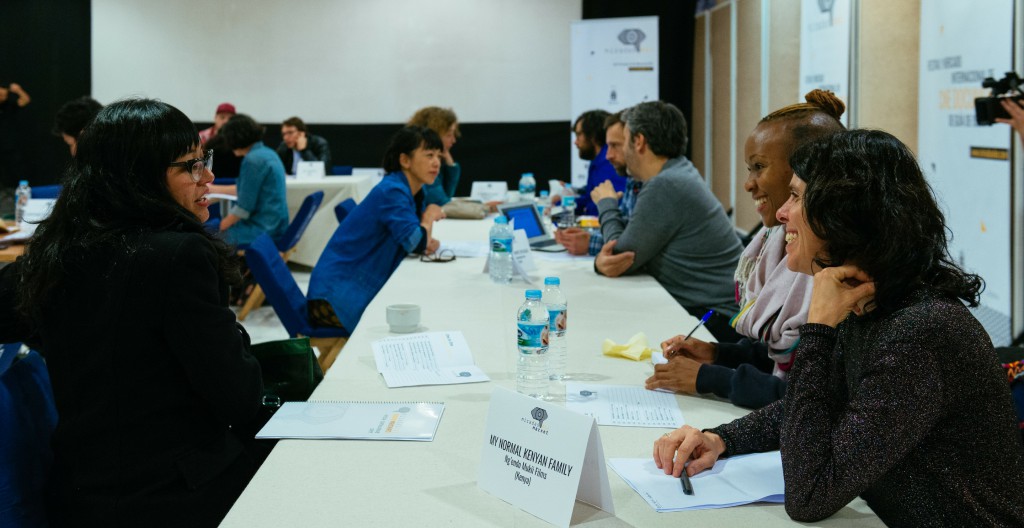 In a second stage, each project may be individually presented to members of the panel for discussion. (between 8 to 10 minutes).
The main aims of these sessions are:
To fund documentary projects through coproduction or pre-buy agreements to be signed with broadcasters and distributors.
To enrich and develop project proposals with suggestions from commissioning editors following these face-to-face encounters.
During this sessions, MiradasDoc Market provides simultaneous translation services.
WHO MAY SUBMIT A PROJECT?
Producers from all around the world whose projects deal with human interest stories and social issues. We pay special attention to films being produced or filmed in South America and Africa.
LANGUAGE OF PROJECT TO BE REGISTERED
Projects can be presented in Spanish or English.
REQUIREMENTS FOR SUBMITTING A PROJECT
You may submit your project by filling out the MiradasDoc Market entry form at www.miradasdoc.com. Registration is free of charge. Please read the rules carefully for submission before completing the form.
REGULATIONS
– The period for submissions is closed. Call for African Projects is open until November 8, 2019.
– Please complete the entry form (to be filled out online).
– It is very important that you should keep within the maximum number of words for each section on the form. You will find further details on each field required in the form:
Budget (in €, Euro; or $, US Dollars)
– If the project is selected, the organization will contact the director / producer to complete the necessary information (images, technical sheet, etc …)
– The list of selected projects will be made public on the web during the last week of November 2019.
– Once a maximum of 10 projects have been selected, producers / filmmakers must pay a fee of € 100 to participate in the pitching sessions. This fee includes:
Participation in the 3-day pitching workshop with expert consultant Stephanie von Lukowicz.
The right of producers or filmmakers to present their project in Pitching sessions.
Accreditation and catalog of Miradasdoc Market
– Travel expenses to the festival on the island of Tenerife are borne by the selected producers / filmmakers. There are aids to stay in some cases. See below:
HELP TRAVEL, STAY AND DIETS
Selected projects may request the following services
1 person stay 3 hotel nights in a shared room (from February 5 to 7)
4-day meal expenses (February 5 to 8)
Airport pickups
Shuttle bus from hotel to market.
MiradasDoc offers African producers or directors
Free registration of 2 people (valued at 100 euros)
Travel bag for one person from Africa – (Courtesy of Casa África)
1 person stay 3 hotel nights in a shared room (from February 5 to 7)
4-day meal expenses (February 5 to 8)
Airport pickups
Shuttle bus from hotel to market.
REGISTRATION PERIOD AND FEES
Submission for African projects: November 8, 2019. Registration is free of charge.
Once the projects have been selected (there will be a maximum of 10 projects), producers must pay a 50€ fee in order to take part in the pitch sessions.
– The list of 10 projects selected will be online throughout last week of November 2019. This fee includes:
Participation in the three-day pitching workshop given by the expert XXX.
The right for the producers or film-makers to present their project at the Pitching sessions.
Lunch Tickets for the market days.
Selected producers and/or filmmakers must cover their own travel expenses to and from the island of Tenerife. In some cases MiradasDoc offers accommodation grants. Please see below:
ACCOMMODATION SUPPORT
Special conditions are to be consulted.