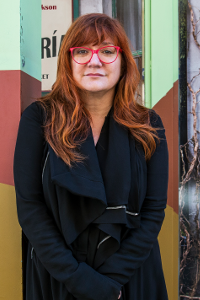 Isabel Coixet started making films when she received an 8mm camera as a first communion present. After graduating with a degree in 18th and 19th century history from the University of Barcelona, she worked in advertising and produced advertising copy. She won several accolades for her spot ads, and eventually founded her own production company, Miss Wasabi Films, in 2000. In 1988, Coixet made her debut as a scriptwriter and director in Demasiado viejo para morir joven (Too Old to Die Young), for which she was nominated at the Goya Awards for Best New Director.
She made her first film in English in 1966, entitled Things I Never Told You. With a cast of American actors led by Lili Taylor and Andrew McCarthy, this moving drama earned Coixet her second nomination at the Goya Awards for Best Original Screenplay. Then, in 1988, in collaboration with a French production company, Coixet returned to her native Spanish to direct the historical adventure A los que aman (Those Who Love).
International success came in 2003 with the intimist drama My Life Without Me, based on a short story by Nancy Kincaid. In the film, Sarah Polley plays Ann, a young mother who decides to hide her terminal cancer from her family. This Spanish/Canadian co-production was highly praised at the Berlin International Film Festival. Coixet continued to work with Polley in a new film, The Secret Life of Words, co-starring Tim Robbins and Javier Cámara. The film received four Goya Awards for Best Film, Best Director, Best Production and Best Screenplay.
In 2005, Coixet joined eighteen other prominent international filmmakers, among them Gus Van Sant, Walter Salles and Joel and Ethan Cohen, to make the ground-breaking collaborative project Paris, je t'aime, in which each director explored a different Parisian quarter. Coixet also made notable documentaries as Invisibles, selected by the 2007 Berlin Film Festival Panorama section, about Doctors Without Borders, and Viaje al corazón de la tortura (Journey to the Heart of Torture), which was shot in Sarajevo during the Balkan Wars. It won a prize at the October 2003 Human Rights Film Festival.
In 2008, Coixet released Elegy, which was shot in Vancouver. Based on Philip Roth's novel The Dying Animal, and with the screenplay written by Nicholas Meyer, it stars Penélope Cruz and Ben Kingsley. Elegy premiered at the 58th Berlin International Film Festival.
In 2009, Coixet's Map of the sounds of Tokyo was screened at the Cannes International Film Festival. It was shot in Japan and Barcelona, and stars Rinko Kikuchi, Sergi López and Min Tanaka; the script was written by Coixet herself. The same year, she inaugurated From I to J at the Santa Mònica Art Centre in Barcelona, an installation and homage to the work of John Berger. In 2009, she received the Gold Medal of Merit in the Fine Arts from the Spanish Ministry of Culture. Coixet was also named a member of the jury of the 59th Berlin Film Festival.
In 2010, she was responsible for the content in one of the three Spanish exhibition halls for the Expo Shanghai China. She also launched the exhibition Aral, el mar perdido (Aral, the Lost Sea), which included screenings of her documentary of the same name, which was shot in Uzbekistan in 2009.
In 2011, the documentary film Escuchando al Juez Garzón (Listening to Judge Garzón) screened in the Berlinale Specials section of the Berlin International Film Festival. Judge Garzón is interviewed at length in the documentary by the writer Manuel Rivas. The film received a Goya Award for Best Documentary.
In 2012 she directed a documentary, Marea blanca (White Tide), about the 10 years of the Prestige oil spill and the volunteers who helped with the clean-up of the Galician coastline.
The same year, Coixet wrote, produced and directed her new project, Ayer no termina nunca (Yesterday Never Ends) which was screened in the Panorama section of the 63rd Berlin International Film Festival. The film also screened at the Málaga Film Festival in the same year, where it received a Biznaga de Plata award for Best Film, Best Actress, Best Photography and Best Editing.
At the end of 2012 she also started filming Another Me, written and directed by Isabel Coixet, shot in Wales and Barcelona, and with a cast led by Sophie Turner, Rhys Ifans, Johnathan Rhys Meyers, and Geraldine Chaplin.
In the summer of 2013, she started filming her new project Learning to Drive, an American production shot in New York. The film is based on an article published in the New York Times, and stars Sir Ben Kingsley and Patricia Clarkson, with whom Isabel Coixet had previously worked in Elegy.
Towards the end of 2014 she shot the documentary film Talking about Rose, Prisoner of Hissène Habré in Chad, narrated by Juliette Binoche. The film tells the story of a group of torture victims and their fight to bring their country's ex-dictator to justice. Isabel released the documentary in 2015, giving the protagonists a voice.
Learning to Drive was released in 2015 at the Toronto International Film Festival and received second place at the People's Choice Award. Nobody Wants the Night was released the same year, shot between Norway, Bulgaria and the Canary Islands and starring Juliette Binoche, Rinko Kikuchi and Gabriel Byrne. The film opened the 66th Berlin International Film Festival and earned Coixet three nominations and one win at the Gaudí Awards, and nine nominations and three wins at the Goya Awards, and a nomination at the Platino Awards. In 2015, Isabel became a Chevalier of the Ordre des Arts et Lettres, and was awarded the honour by the Mayoress of Paris Anne Hidalgo, on behalf of the French Ministry of Culture.
Isabel released Spain in a Day in 2016, a collaborative film showing a day in the life of Spaniards through videos and photos taken by ordinary people using their tablets, telephones and cameras on 24th October 2015. It is based on Ridley Scott's Life in a Day, with a musical score by Alberto Iglesias.
Her most recent project, released at the end of 2017, is called The Bookshop, and is a film adaptation of Penelope Fitzgerald's book of the same name, starring Emily Mortimer, Patricia Clarkson and Bill Nighy. It received 12 nominations at the 32nd Goya Awards.
Through Miss Wasabi Films, Coixet plays an important role in improving the status of women in film and working with new directors.