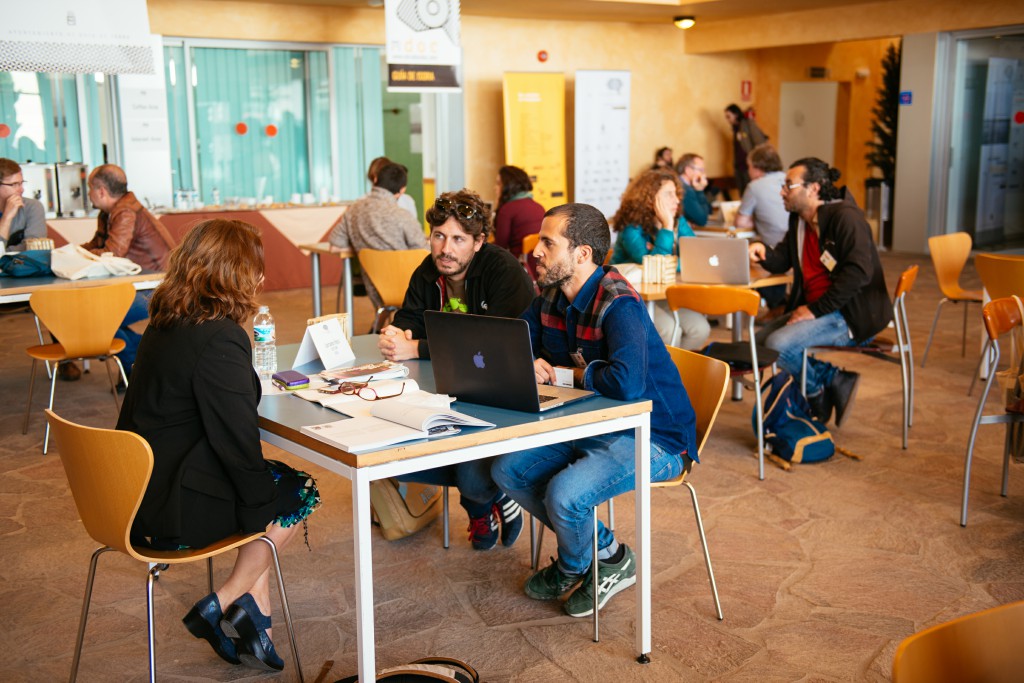 Because of their geographical location, the Canary Islands may be considered a natural bridge connecting the continents of Europe, Africa and America, which makes the islands the perfect place to hold MiradasDoc Market, a media content market where documentary producers may sell their films to television companies and distributors.
Guía de Isora is on the island of Tenerife. Its attractive landscape, a spring-like average temperature of 24ºC, and the island's modern communications infrastructures, combined with its top-quality hotels, make this enclave the perfect setting in which to hold an international conference for documentary professionals.
MiradasDoc Market is the international market for documentary professionals with an eye on the South:
Production companies/filmmakers with films produced or shot in Africa or Latin America
Producers from all over the world who are dealing with the relationship between Africa or Latin America
MiradasDoc Market is the ideal place for projects in search of funding and for finished productions looking for distributors or exhibitors.
Channels in previous editions: 3 SAT, ARTE TV, AL JAZEERA, Canal Curta, Canal Encuentro, Canal Extremadura, Canal France, Internacional, Canal Futura, Canal Historia, Canal Odisea, Canal Plus, DR, France Télévisions, KCET, Movistar, Nuevo Mundo Televisión, RTBF, RTI Costa de Marfil, SABC (South African Broadcasting Corporation), SEÑAL COLOMBIA, SVT , Teleasturias, TelePacífico, Telesur, TelevisiÓn Canaria, TV3, RTVE, TV Cultura Brasil, TVES, TV UNAM, UR , YLE.
Distributors/Fundations in previous editions: 3Boxmedia International Sales, Doc & Co, DOGWOOF, Elamedia , Filmotor, Feelsales, First Hand Films, Icarus Films, ITVS Internacional, Java Films, J.M.T. Films Distribution, JOURNEYMAN, PICTURES, Kick Blue Consulting, Motion Pictures, Ruth Diskin Films, Smiley Film Distribution, TASKOVSKI FILMS, THE WHY FOUNDATION, Treeline.
The market will be held on 3 and 7 of February 2019 in Guía de Isora (Tenerife) as part of the MiradasDoc International
At the MiradasDoc Market you will find:
Pitch session
One-to-one pitch meetings, where individual producers meet buyers face-to-face.
Catalogue with projects under development and completed documentaries.
Conferences and workshops.

Participation Fee & Registration Forms
The participation fee for all producers attending MIRADAS Market is 50.00€ (EUR).
This fee covers:
Accreditation, printed catalogues, and MIRADASDOC totebag.
Attendance of 2 representatives per company
Please pay the 50.00€ (EUR) in advance by bank transfer to the following Guía de Isora City Council bank account:
Account number:
I.B.A.N.: ES32 0049 0309 2623 10075714
BIC (SWIFT): BSCHESMM
Tenerife, España.
CONCEPT: MiradasDoc Market Acreditation
Please clearly indicate the company's name and the name of professional who will be attending on the TRANSACTION RECEIPT. And don't forget to fill your registration form! (Link)
The organization will confirm registration once a transaction receipt confirming the bank transfer payment has been received at the following email: infomarket@miradasdoc.com
Deadline for registration and payments: 28th of January, 2020.

If you need any further information, please don't hesitate in contacting us:
E-mail: infomarket@miradasdoc.com