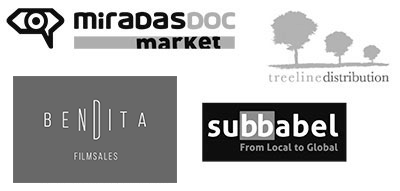 1st) DEVELOPMENT PRIZE: MIRADASDOC will award €3,500 to a project for its pre-production.
A contract will be signed in which the conditions of the prize are established: deadline of one year, delivery of supporting documents, invoices, etc.
2nd) MIRADASDOC AND SUBBABEL PRIZE FOR TRANSLATION AND SUBTITLING
The award-winning Spanish company SUBBABEL specialises in audio-visual translation, subtitling, voice over, audio description and sign language, and together with MIRADASDOC awards the following prize: Free Translation and Subtitling (English or Spanish) of a documentary with maximum duration of 80 minutes. 35% reduction in the rate for subtitling the same documentary in another language (Spanish, French, Italian, Portuguese or German). The standard rate is 9 euros per minute. The submission of the script, transcript or dialogue list is required.
3rd) TREE LINE DISTRIBUTION PRIZE FOR ADVICE IN DISTRIBUTION AND FESTIVALS.
The prize consists of 2 sessions of advice on the project:
The first: In the development phase.
The second: Once the documentary has been completed.
The objective: Provide a guide to which are the most appropriate festivals for the content and style of documentary, and the best commercial distribution strategy to follow (choice of distributor or sales agent, television, internet, cinema, etc. …).
TREELINE DISTRIBUTION is a Spanish distribution company created by Luisa Romeo and Elena Mera, two professionals with extensive experience in national and international production and distribution. Romeo has worked in companies such as Filmanova, Explora Films and Transglobe Films, among others, and Mera in Antena 3 TV, New Atlantis and Plural Entertainment.
4º) INTERNATIONAL DISTRIBUTION AWARD
BENDITA FILM SALES
MIRADAS DOC MARKET 2020
The International Distribution Award is an initiative of international sales agency Bendita Film Sales that aims to support new voices in documentary filmmaking and facilitate their access to traditional distribution channels.
CONDITIONS OF PARTICIPATION
Projects selected to complete in the IV Afro-Latin American Coproduction Forum (AFROLATAM) or in the Miradas Doc Market 2020 Professional Forum are eligible to qualify for the International Distribution Award.
Projects that already have a valid international distribution contract will not be eligible for the award.
The winning project will be chosen by a jury composed of professionals from the sales agency, who will evaluate its artistic and technical quality and, in particular, its international commercial potential.
The jury's decision will be final.
THE AWARD
The award-winning project will have the opportunity to enter into a contract for the international distribution of the documentary within the Bendita Film Sales catalogue for five years and in line with general market conditions. This option will be offered to the winner once the final cut of the film has been presented. The winner will have a period of two months to accept or reject the offer.