"Personal View"
Award
Abbas Kiarostami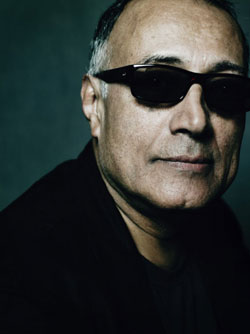 Abbas Kiarostami is about to celebrate his fourth decade as a filmmaker, having conquered practically every sphere of the film world, except, of course, Hollywood. Few directors have garnered as many awards and honors as he has. He has won prizes at Cannes and Venice, and is revered as a master of Contemporary Film and even as the living legend of Iranian Film.
And he has not achieved this by using massive amounts of resources and huge budgets, nor does he wish to do so. Instead, he relies on his brilliant and very personal creative vision. His films, with their simple scripts, leave a profound mark on viewers. He habitually resorts to offering films that are poetic, not just in terms of the dialogues, but also in the sense that the scenes themselves show that he is well acquainted with poetry. Not surprisingly, two of his films, "The Wind Will Carry Us" and "Where Is the Friend's Home?", are named after poems by Frugh Farajzad and Sohrab Sepehri, respectively, both of who are important figures in contemporary Persian literature.
Kiarostami is apt at jumping between the real and the ideal, using scenes that are fairly realistic and portrayed by amateur actors. This is why it's easy to lose track of where documentary ends and fiction begins. But, perhaps what this director hopes to achieve is to remove the barriers between these two terms. He reminds us that, under the director's control, the camera captures a part of reality where everything has a role to play: an old woman, a tree, or even a cow.

Ahmad Taheri
Director of the Persepolis Cultural Centre
PERSONAL VIEW´07
Basilio Martín Patino (Lumbrales, Salamanca, 1930) has been a key figure in Spanish film throughout the last forty years. He was the driving force behind the Salamanca Conversations in 1955. He studied at the Institute for Cinematographic Research and Experimentation, and, following his debut, embarked upon a long solo career that has been characterized by his coherence and his commitment to the reality that surrounds him.
He began one of the most personal and riskiest film careers in Spain with "Nine Letters to Bertha" (1966). This first feature-length film is an emblematic work of so-called New Spanish Cinema; it is also the most recent work in this movement. The film won the Gold Shell for the best debut film at the San Sebastian Film Festival. In 1969, Martín Patino distanced himself from the film industry when the censor caught up with him and mutilated the script for "Love and Other Solitudes". From that moment on, he consciously and purposefully began to work at the margins, away from commercial pressures. Basilio Martín Patino decided –in his own words-: "to wait for them to die. I would never again suffer the humiliation of subjecting one of my films to the censor. Films outlive dictators".
"Canciones para después de una guerra" ("Songs for the Post-War", 1971), was banned by the censor for five years. The film is a critical X-ray of the post-Civil-War period, built on the basis of a dialectic relationship between the images and the sound track. Both "Dearest Execuxioners" (1973) and "Caudillo" (1974) were edited in secret. The first is a harsh reflection on the death penalty and power. The second is a historical portrait based on the figure of the dictator.
Although, with the reinstatement of democracy, these works have now been unearthed, Patino did not work for the silver screen again until 1985, when, after creating his own production company (La Linterna Mágica) and making a video compilation of historical documents in 1980 entitled "The Spanish Civil War", he shot "The Lost Paradise" (1985), a fictitious historical essay based on Hölderlin's "Hyperion" whose aim was to construct an intim
ist reflection on the need to recover memory.
Two years later, he proposed another unorthodox work, "Madrid", (1987), which again combines fiction and documentary and, once again, delves into the relationship between the individual and history. In 1991, he shot "La seducción del caos" ("The Seduction of Chaos") entirely on video. The piece was a critique of the deceptive appearance of representation in the opulent world of the media. This project was followed by "Andalusia, un siglo de fascinación" ("Andalusia: A Century of Fascination" 1996), a mini-series made up of seven films shot on video, of which "El grito del sur: Casas Viejas" ("Cry of the South: Old Homes") is worth noting. With "Octavia" (2002) he again touches upon the subject of memory and the passage of time, the play between personal and social history, and he continues to show an interest in aesthetic reflection and in the cultural reality of his time.
It is this freedom that makes it possible for Martin Patino to turn documents into collages, to make fiction out of history and to stray from naturalism. He achieves the narrative force of his work thanks to this freedom. And, with this freedom, he adopts an ethical attitude towards his craft and assumes a sense of duty towards the reality he portrays.
PERSONAL VIEW ´06
To speak of Patricio Guzmán is to speak of documentary filmmaking, but also of militancy, of duty, of his tireless work in recovering the memory of Chile's recent history. The struggle against the amnesia that the Chilean people were subjected to turned him into a guerrilla of the moving image. His weapons are an intelligent gaze, thousands of meters of film, and his voice, that personal and ever-critical voice that he contributes in each of his documentaries.
Already in 1977, the late Manuel Vázquez Montalbán, wrote the following with respect to "The Battle of Chile": "If it were up to me, I would declare "The Battle of Chile" a film of "democratic interest" and would make it compulsory viewing in the schools". And the fact is that, ever since then, since that epic trilogy where an entire people put up resistance to barbarity, Guzmán has developed a new form of understanding, reflecting upon and assimilating history
In 1972, with a just few cans of film donated by documentarian Chris Marker, a group of young filmmakers who called themselves Equipo Tercer Año (Third Year Team) and were led by Guzmán, began to shoot, in 16mm., the material that would eventually, following innumerable mishaps, be used to put together "The Battle of Chile". After a year and half's work, and after the Military Junta had illegally taken power, the film had to be smuggled out of the country and team members went into exile, with the sole exception of camera operator and director of photography, Jorge Müller, was arrested and made to disappear forever like so many other Chileans who were the victims of this barbarity. The film was edited thanks to the help of Cuba's ICAIC.
Since the enormously famous trilogy, Guzmán's film career has kept close ties to the struggle against political amnesia and the obsession with shedding light on the facts. The filmmaker's maturity is marked by the different ways in which he treats the same topics.
In 1985, Guzmán traveled to Chile to make "En nombre de Dios" ("In God's Name"), an excellent film in which he portrays the Catholic Church's and the liberation theologists' active struggle against the dictatorship. In 1996, he again insists on this theme with "Chile, Obstinate Memory". Patricio Guzmán tours the scenes of the conflict with "The Battle of Chile" in his hands, looking for some of the protagonists of that time and revealing their history, offering evidence to a people upon whom the powers that be had induced a state of amnesia. The film portrays the conflict between one generation that is incapable of erasing the memories of a sad past and another, younger one, that has been educated to not remember.
In "The Pinochet Case", the Chilean tragedy that Guzmán has been telling us about ever since his early documentaries acquires a new dimension when the surviving relatives of torture victims and of the missing appear and, after twenty-five years, are finally heard by the justice system. Beyond the results of the lawsuits brought forth by judges Garzón and Guzmán against the ex-dictator, the documentary constitutes a veritable moral trial before humanity against the atrocities committed by the orchestrators of Operation Condor.
Guzmàn's final battle, this battle against amnesia we have been referring to, took place in 2005 with "Salvador Allende", a portrait that goes beyond mere biography to become the filmmaker's intimate story, recounting his memories and hopes during the Chilean revolution, a peaceful, democratic and socialist revolution.
But Patricio Guzmán's work in film has also followed other thematic lines where he has shown a similar talent and a wholehearted commitment to the documentary genre. For the Chilean, non-fiction is a "tenacious and very beautiful job that provides much greater satisfaction than fiction. It is political, creative, deeply artistic work that is full of freedom and sits squarely before the joy of reality. There is no more extraordinary spectacle than reality." With this passion for reality, he submerges himself in worlds such as Latin America's profoundly religious sensibility. From native rites to liberation theologists, including the syncretic cults of African origin, Guzmán takes a tour of the spirituality of the Latin American people.